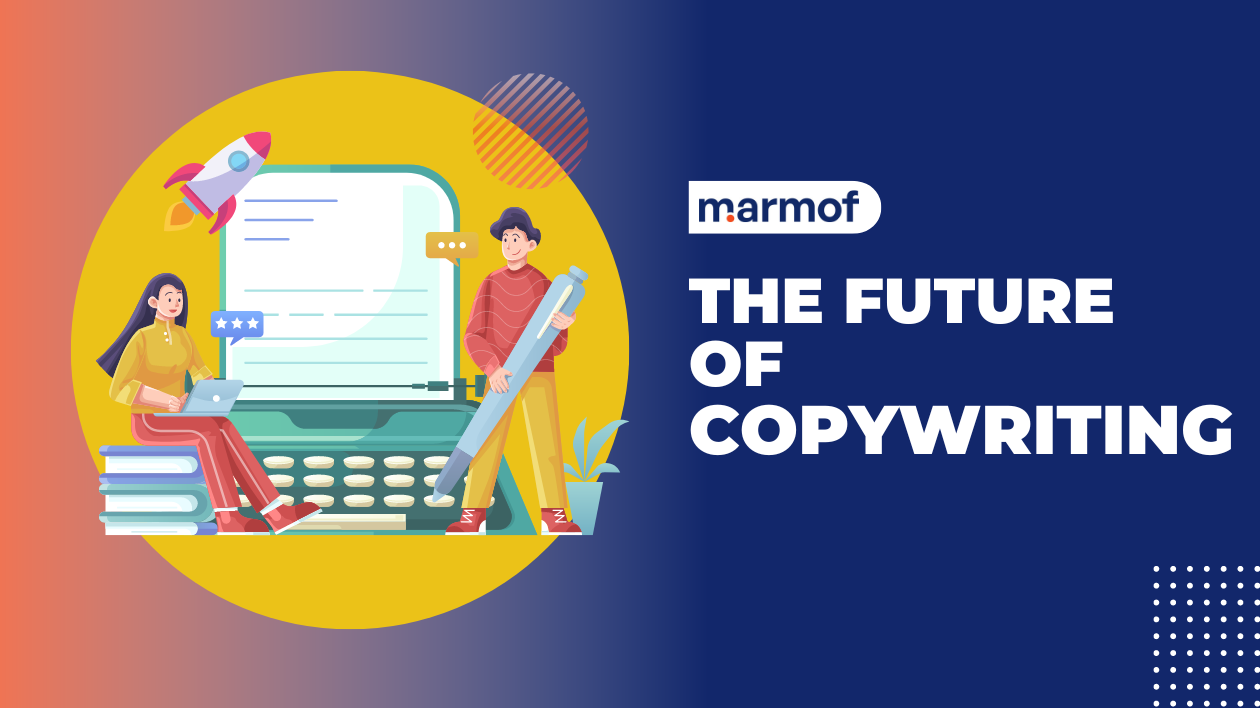 Copywriting is one of the highly-demanded professions of the future. It is what markets the product or service. Hence, the demand for professional content is continuously increasing, since each day a lot of new brands are emerging and in order to stay competitive, they need to reflect their key advantages properly. Nowadays, companies are comprehending the significant importance of compelling and professional texts. So, let's reveal the future of copywriting. Additionally, we will discuss how artificial intelligence influences the field of copywriting.
What is the role of a copywriter and how is AI connected with copywriting?
Copywriting is mainly about discerning the specific language of writing that is professional and attention-grabbing so that it will keep readers' interest and desire to read till the end. They must also be able to present complicated issues in an understandable manner. In a word, professional copywriting specialists need to have the ability to distinguish interesting topics and issues and talk about them and do so understandably and engagingly.
Copywriting is used for numerous purposes. For example, one can be interested in creating a specific writing style for a website, writing a product/service description compellingly, or selling its product. So, even though the goals of copywriting vary, one thing is for sure: copywriting is particularly used to convey a specific message that influences customers' behavior.
The final destination of copywriting is to generate the type of copy that increases the sales of a product or a service. It can be implemented either through directly creating a selling text or indirectly making an impact on customers. So, how can AI complement copywriting?
It is well known that with the evolvement of technology, AI is strictly connected with copywriting. All of us talk about it, but what is the importance of it for copywriters?
Artificial Intelligence is what helps to generate human-like quality in copywriting, just with a subtle difference: it takes just a couple of seconds. It is a technology that thoroughly analyzes the process of creating digital art and generates the copy you want.
Many companies recognize the potential of AI for copywriting purposes, regarding efficiency gains and innovative solutions. Artificial intelligence is a sophisticated system that is meant to surpass human intelligence. Several AI types are currently used, like speech recognition and machine learning. One of the most promising and widely used Artificial Intelligence areas is automated copy generation.
What is the prediction for copywriting future and AI is interrelated with it?
The future of copywriting is obviously very promising and interesting. In a continuously evolving digital world, copywriters need to develop their skills to comply with the evolving opportunities. In this regard, the main challenge is to stay competitive, in terms of constantly upgrading copywriting skills and abilities and learning new innovative technological advancements to keep up with the rapid pace of ever-evolving technological advancements.
So, why specifically do you need to use Artificial intelligence for copywriting? The answer is super clear. It can help you improve the quality of your copy in a very efficient and effective manner. With AI you can find better ways to explain concepts and create readable headlines.
Artificial Intelligence is generally used for copywriting purposes in four ways:
AI is used to analyze the copy to distinguish the main keywords of the document that are essential for a specific range of audiences,

Generate professional and compelling descriptions using desired keywords that are also SEO-friendly,

Creating Ad campaigns that result in increased sales,

AI is widely used for generating complete copies of different types, like blog posts, interview questions, Quora answers, problem agitate solutions, AIDA frameworks, long-form articles, etc.
Undoubtedly, most of us interact with Artificial Intelligence on a daily bases for various purposes. Consequently, in the future copywriting will be more tied to Artificial Intelligence than now. In this respect, it is pivotal importance to get well-equipped for future challenges today. Copywriters need to properly analyze the technology of Artificial Intelligence and learn key techniques for using them.
It is well known that with digital advancements, all industries are being influenced by Artificial Intelligence. Copywriting is specifically under the direct influence of it. It can change everything from how websites are designed to the style of presenting rendered products.
What is a reliable AI content-generating tool?
Finding a professional and reliable content-creating tool is of pivotal importance. Marmof is a leading professional AI content-generating tool that renders a number of opportunities. This advanced tool allows you to choose any use case you want, ranging from keyword extraction, and job description writing, to blog section and amazon product description writing. Actually, Marmof offers twenty-seven use cases of different areas. Even if you do not find your desired copy-creating type, it is not a big deal. Marmof gives you an exceptional opportunity to be your own use case creator. To be more specific, you can present your desired type of use case, and the Marmof team will add it at the earliest possible time.
Hence, with Marmof AI content-generating tool you can create any copy you want with just a click of a thumb. Use Marmof, learn the technological advancements, and get prepared for future evolvements.
The major influence of Artificial Intelligence on Copywriting
AI is critically important for copywriting in several manners. Some of them include the following tricks:
Artificial Intelligence is leading almost all the existing industries to advancements,

Artificial Intelligence brings innovation and creativity to your writing,

Artificial Intelligence helps to come up the high volume and low-difficulty competitive keywords,

Artificial Intelligence assists copywriters in terms of creating better headlines by teaching learning specific algorithms for understanding the context and finding attention-grabbing keywords,

Artificial Intelligence can help writers to find new innovative and effective ways to write copy by using numerous engaging and creative techniques to present particular products services or brands.
So, these are a couple of key advantages of using Artificial Intelligence in copywriting.
Key strategies for leveraging AI in copywriting
If you are concerned about making money with AI, then here are some essential strategies to leverage AI in your writing.
Come up with innovative and creative ways to present ideas and concepts in your writings. AI creates better headlines in case the article presents the reader with how the content is going to benefit the reader.

Ensure that your copies are well-written and easy to comprehend. To need to make sure that your articles are readable and that there is no room for misunderstanding or confusion. Marmof will help you improve your content quality.

Select the proper formats for your copies. AI content-generating tools can be helpful in terms of offering a wide range of template structures for your content.
Key concluding points
It does not matter what field your business belongs to everyone deals with copywriting. Clearly, in the upcoming future, copywriting would never cease to possess a decisive role, given the fact that text is what presents why exactly customers need to buy your product. When it comes to AI-generated content, obviously their role is increasing as well. So, if you want to stand apart from competitors, you better start considering this issue now.