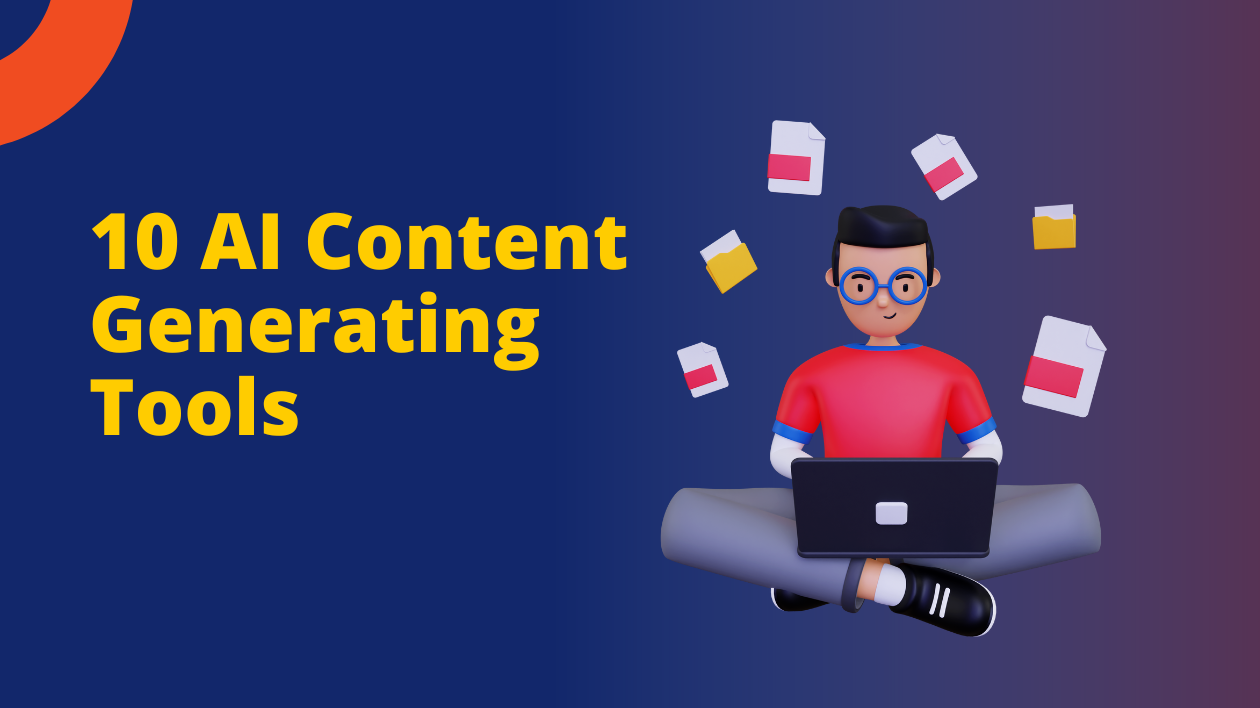 2023 will be the year of Artificial intelligence. AI is tightly merged into our everyday life. The field of content writing is not an exception. AI content-generating tools assist you to create personalized and professional content for various purposes. You can generate SEO-friendly blog posts, Amazon product descriptions, job interview questions, or social media posts, ensuring high quality and relevance. One of the biggest advantages of these tools is that they entail engaging and relevant content for just a couple of seconds. So, content-generating tools allow you to optimize your content for search engines, save a lot of time and generate creative and better ideas for your audience, taking into consideration their needs and wants.
Content creation is an inseparable part of your marketing strategy. Regardless of whether you are your own creator of the content or outsource it to someone else, you need to use AI content-generating tools, given their professionalism, effectiveness, and efficiency. In a word, these tools ensure better results and, at the same time, make your life much easier. So, let's discover the top 10 fascinating AI content-generating tools for 2023.
What are the best AI content-generating tools for 2023?
1. Marmof
Marmof is an excellent professional AI content-generating tool that helps to create high-performing professional content on a large scale. Through the sophisticated and well-thought features, it allows you to fully get out of writer's block. In case you are stuck on what to write for your social media posts, emails, website articles, blog posts, or ad campaigns, then Marmof is just for you. It helps to spark unique, engaging, and high-converting content for a wide range of purposes. With the assistance of this tool, you will readily forget about struggling with conducting thorough research and analyzing a specific topic to generate engaging and relevant content. It is worth mentioning that this professional tool is super affordable, free of plagiarism, and offers a wide range of use cases.
Features and key peculiarities
• Marmof offers 25+ powerful AI writing tools, that range from blog post writing to SEO meta titles and descriptions.
• This powerful tool writes copy and content that sells. It is trained well to generate marketing copies that convert well.
• Marmof is your answer to dozens of questions on what to write to be creative and relevant.
• Marmof is the AI tool that operates 15 times faster, regardless of the generated content type. If you want to scale up your operations, then here we go.
• Marmof renders an opportunity to generate 3.000 words per month for free.
• The premium pricing category costs just $39 per month and entails unlimited groups, unlimited documents, 20+ voice tones, 150.000 words per month, and much more.
• The tool is easy to use. You can readily enjoy its features and advantages even without being familiar with the platform.
• Marmof is an exceptionally powerful AI tool, in terms of allowing you to add any use case you want. So, even if you do not find the template you want in the offered list, Marmof will immediately complete the use case list the way you want.
2. Jasper AI
Jasper AI is a content-generating tool powered by artificial intelligence. It is a professional tool that offers a lot of templates. Be it a blog post, article, email, ranking keywords, or product description, Jasper is always "ready" to generate the content. The most important thing is that the content will be ready just in a couple of seconds. So, if you value engaging and professional content, then hurry up to enjoy the features Jasper AI offers.
Features and key peculiarities
• Jasper AI is capable of reading and writing creative and engaging content in more than 29 languages.
• It offers over 50 content templates that encompass a variety of copies. So, you just find your desired template, the rest Jasper will do.
• Jasper generates amazing art in seconds for ads, illustrations, thumbnails, etc.
• Jasper renders the Boss Mode feature through which you can generate long content like blog posts, articles, reports, emails, and stories.
• This tool is enabling you to have SEO-friendly content as well, through which you can rank on search engine result pages.
• Jasper AI has 3 categories of pricing: Starter, Boss Mode and Business. Undoubtedly, it offers a free trial as well, so that you can enjoy the tool before subscribing to one of the pricing categories.
3. Rytr
Rytr is an AI content-generating assistant that creates high-quality content in just a few seconds. If you are a person who needs to write a blog post or cover letter, Google search ad, or a profile bio and wants to have them in a very short time, then Rytr is your right choice. You can even enjoy video-creating various features and just have fun.
Features and key peculiarities
• Rytr is constantly improving its offered services and is coming up with "What's new" opportunities.
• Rytr has 41 use cases from diverse areas and diverse difficulties.
• The satisfaction rating from 1000+ reviews is 4,9/5.
• Rytr is widely used among entrepreneurs, marketers, SDRs, academicians, copywriters, etc.
• A significant advantage of Rytr AI content generator is that it includes features of grammar checker, content spinning, plagiarism checker, and multiple language content creation.
• Rytr has flexible pricing plans that include the Free plan, Saver plan, and Unlimited plan. Each of these plans have its unique advantages.
4. Copy AI
If you are looking for an AI content generator with impressive experience then Copy AI will work for you. Actually, 4.000.000+ professionals and teams choose Copy AI, including Microsoft, eBay, Ogilvy, and Nestle. So, with this fascinating tool, you can generate blog content, digital ad copies, website content, sales copies, and much more. Copy AI is a professional tool that can now create long-form documents instead of just social media captions or other types of short-form content.
Features and key peculiarities
• The software uses GPT-3 technology that allows for generating content in just 2 minutes.
• Copy AI helps business owners, marketing agencies, startup teams, social media managers, and email marketers to have relevant and desired content.
• This professional tool has 100+ templates that you can easily use to generate high-converting original content.
• Copy AI suggests 25+ languages out of which you will find yours.
• Copy AI is easy to use.
• This tool has 2 pricing plans: Free and Pro. See the details here.
5. Writesonic
Writesonic is another professional and widely used platform that generates AI-powered content. With this tool, you can create Instagram captions, LinkedIn posts, blog articles, product descriptions, and much more. It is essential to highlight that Writesonic emphasizes creating SEO-friendly and plagiarism-free content for various purposes. It will help you create unique copies. Through the generated engaging content, you will reach your target audience.
Features and key peculiarities
• Writesonic enjoys a high reputation. It has a ranking of 4,8/5 based on 10.000+ reviews.
• It is easy to use.
• This tool is trusted by 1.000.000+ marketing teams, agencies, and freelancers.
• It is used by such companies as Mariott, NYU, Genesys, Vodafone, etc.
• Writesonic has three pricing plans: Long-for, Custom plan, and, of course, Free trial.
6. AI-writer
AI-writer is a great content generator if you want to have accurate, relevant, and high-quality content in just two minutes. Specifically, this is a platform, hinging on state-of-the-art AI writing models that can create articles from just a headline. AI-writer offers a full range of writing services, that include blog post writing and article writing. So, no matter what type of content you need, an AI-writer always has a solution for you.
AI-writer allows you to generate high-quality content that is also properly optimized for search engines and is authoritative. All the writing services it delivers are related to time efficiency, SEO efficiency, and delivering trustworthy research. So, trust AI-writer artificial intelligence content writing tool and enjoy the quality.
Features and key peculiarities
• The content generated by AI-writers is always relevant and fresh.
• All the writing services are directly connected with high quality, originality, and uniqueness.
• AI-generated copies can be directly published to WordPress.
• A significant advantage of this tool is that it ensures full articles, content cost reduction, and profit margin increase.
• Even if you already have a text, but want to rewrite it, then this tool offers an effective solution as well. As a final result, you will have no duplicate content penalties, will have a high ROI work, and an opportunity to rewrite any topic you want.
• AI-writer generates content with accurate sources. It provides a complete list of citations that you can manually verify for accuracy.
• Its SEO features allow you to have a 73,47% ranking advantage.
• For the pricing plans, AI-writer has three options: Basic plan, Standard plan, and Power plan.
7. Fraze IO
Fraze IO is a professional tool that helps you research topics, generate and optimize high-quality content for search engines. The tool is offering several free templates for landing pages and blog posts. Fraze IO is an AI-based content-generating tool that is generally used by marketing agencies, content marketers, and SEO specialists. Fraze AI has a number of features encompassing keyword research, content optimization, keyword description writing, Frequently Asked Question writing, etc.
Features and key peculiarities
• This professional tool is trusted by 30.000+ content, SEO, and marketing teams, including Digitas, PTC, Coursera, Talk Space, Merkle, and much more.
• SEO content workflow is composed of the following steps: content brief, content writing, content optimization, and content analytics.
• Fraze IO renders 13 free templates for landing pages and blog posts.
• This tool does not rely on Open AI to generate content.
• Based on the reviews collected among hundreds of Frase customers, it has a rating of 4.8/5.
• Fraze IO has three pricing plans with unique advantages: Solo, Basic, and Team.
8. Scalenut
If you are concerned about generating engaging, original, and professional content in a couple of minutes, then Scalenut is a very optimal tool to choose. It gives you a simple and scalable way to generate such content that serves all your business goals. It combines keyword research and optimization tools with content writing professional features to ensure excellent results.
Scalenut AI content-generating platform allows you to hire professionals that help you write, design, and create video content within the platform. This feature will work perfectly if you want exceptional content but do not want to use the artificial intelligence features of Scalenut.
Features and key peculiarities
• The tool is trusted by 200+ businesses across 10 countries, that include Outplay, Pharm Easy, Teachmint, Leap Finance, Foyr, Dialogue, etc.
• Scalenut renders a guided workflow to complete a blog in just 5 minutes.
• This tool is rendering SEO-focused content outlines as well.
• Scalenut is a tool with no limits. You can get unlimited content ideas for blogs, ad copies, product descriptions, blog conclusions or introductions, emails, and much more with just one click of a button.
• Concerning pricing plans, this AI tool offers 3 categories: Individual, Growth, and Pro. Currently, sales are offered for all of these plans. So, hurry up!
9. Outranking
Outranking is an Artificial intelligence tool that aims to provide content creation services with predictable content success. It is an AI platform that leverages data and research to help you ace SEO content. No matter whether you work solo or as a team, Outranking AI platform will help you with its professional content creation services. Write better content 10 times faster and enjoy high-converting, engaging, and original content.
Features and key peculiarities
• The tool is trusted by 12.000+ writers and companies. Some of the major companies include Great Content, Debt.com, Workhero, Fast Spring, etc.
• Through this tool, you can easily create an ROI-driven keywords strategy using advanced clustering algorithms and Artificial intelligence in just a couple of minutes.
• The AI tool enjoys high rankings. The obtained reviews are pretty impressive.
• The AI platform has 3 pricing plans: Solo, Pro, and Company.
10. Peppertype
Peppertype is mainly based on machine learning, through which it ensures you get the most relevant information for your articles and blogs. Thanks to this AI tool you can generate content that converts in seconds. You can choose any content type you want, be it a blog post, landing page, email, and more. The key competitive advantage thereof is the ability to generate customized content in seconds. So, Peppertype is an excellent resource for those who do not want to spend a lot of time learning the entire platform, along with its diverse features and want to get right into the desired writing content.
Features and key peculiarities
• Peppertype is widely used among 250.000+ individuals, that also include Yale, Spotify, Oyo, Brower Stack, Flipkart, etc.
• Create email campaigns that convert spending into just 30 seconds.
• The AI tool has generated 5 Mn+ content pieces that are professional and engaging.
• Peppertype creates content for everyone, including blog writers, social media managers, email marketers, SEO managers, product managers, and content creators.
• The platform entails 2 pricing plans: Personal and Team.